Sphenopalatine ganglion block with botulinum toxin type A using a three-dimensional injection guide for facial pain of cancerous origin: study of a clinical case.
Keywords:
Sphenopalatine ganglion block, tongue cancer, pain, botulinum toxin, 3D guide
Abstract
Objective: Sphenopalatine ganglion block remains a noninvasive therapeutic option to treat diverse facial pain syndromes. The aim of this case report was to verify the effectiveness and safety of three-dimensional (3D) injection guide for sphenopalatine ganglion block in a tongue cancer patient.
Case report: A 53-year-old man presented with a large squamous cell carcinoma of the right base of the tongue, classified cT4N2M0 and exhibiting excruciatin facial pain. A botulinum toxin injection was performed following Dr. Yoshida's method, using a 3D injection guide.
Conclusions: Sphenopalatine ganglion block with 3D injection guide can be an effective treatment against cancer pain. In this case report a complete withdrawal of painkillers was obtained less than 24 hours after botulinum toxin injection.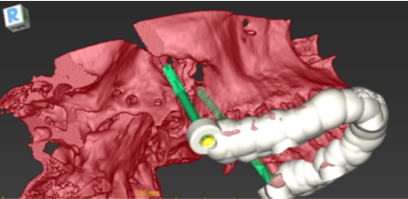 Downloads
License
Copyright (c) 2023 Thomas Bourgeois, Yves Gilon
This work is licensed under a Creative Commons Attribution-ShareAlike 4.0 International License.