Medical and dental hidden treasures and secrets of 2700-year-old Egyptian mummy: Osirmose - the doorkeeper of the Temple of Re.
Keywords:
Egyptian mummy, embalming, computer tomography, head, oral surgery, 3D printing
Abstract
Objective: To perform a 'virtual autopsy' on the Egyptian mummy and to study, understand, and interpret three-dimensional (3D) high-resolution computed tomography (CT) scan images of Osirmose's mummy with a multidisciplinary team composed of radiologists, archaeologists, and oral and maxillofacial surgeon.
Material and methods: We studied the Osirmose's mummy, the doorkeeper of the Temple of Re, who lived during the XXVth dynasty. His mummy belongs to the Royal Museum of Art and History (Inv. E.5889). We performed a high resolution CT scanning of Osirmose's mummy. We also 3D printed the upper maxilla of the mummy and a tooth found in the oesophagus with a clinically validated low-cost 3D printer.
Results: We confirmed the male sex of the mummy. We found the heart, aorta, and  kidneys inside the mummy's body. Brain excerebration was performed through the right ethmoid bone pathway. A wood stick embedded in the dura mater tissue was found inside the skull. The orbicularis oculi muscle, internal canthus, optical nerves, and calcified eye were still present. Artificial eyes were added above the stuffing of eye globes. The skull and face were embalmed with multiple layers of inner bandages in a sophisticated manner. The wear of maxillary teeth was asymmetrical and more pronounced on the maxilla. We discovered three anomalies of the upper maxilla: 1) a rectangular hole on the palatine side of tooth n°26 (the palatine root of tooth n°26 was missing), 2) an indentation at a right angle palatine to tooth n°27, and 3) a semilunar shape of edges around the osteolytic lesion distal and palatine to tooth n°28.
Conclusions: The present study provides the first evidence of a tooth removal site, and of oral surgery procedures previously conducted in a 2700-year-old Egyptian embalmed mummy. We found traces of dental root removal, and the opening of a tooth-related osteolytic lesion before the person's death. The multidisciplinary team, the use of a high resolution 3D CT scan and a 3D-printed model of the upper maxilla helped in this discovery.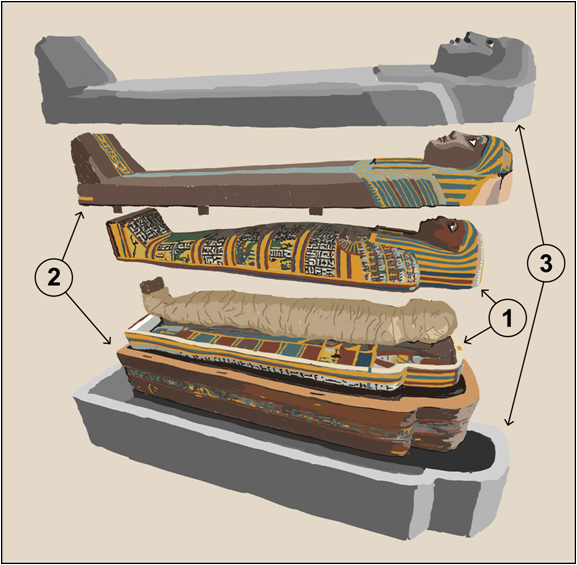 Downloads
License
Copyright (c) 2021 Raphael Olszewski, Jean-Philippe Hastir, Caroline Tilleux, Luc Delvaux, Etienne Danse
This work is licensed under a Creative Commons Attribution-ShareAlike 4.0 International License.