L'articulation entre formation et monde du travail et sa relation avec les trajectoires et les identités des docteurs selon une approche systémique
Keywords:
working world, social representations, crisis, PhD/PhD students, systemic sui generis approach
Abstract
This article analyzes the social representations related to the working world that groups of PhDs and PhD students who belong to French and Argentine institutions in the same disciplinary fields have (2005-2009; 2009-2014). At the methodological level, we have used a specific qualitative technique, hierarchical evocation. This has allowed us to observe how the actors themselves, in their own words, view the process of professional insertion in the workplace, promotion, preservation of human resources, and the growing uncertainty, among other issues, associated with the working world. Likewise, we have been able to capture their projections for the future and their professional expectations, as well as the impact these processes have on their pathways and identities, which many times are fragile and exist on unstable stages, stages where nationalization, liberalism and the socio-political and economic crisis are leaving their mark. To this general framework, we must add other aspects such as the effects of university for the masses on employment, the saturation of degree-holders and, at the same time, the devaluation of degrees, and their background effects. Our results show "contextualized" similarities and differences between the groups. The relationship between individual/context/individual, as well as the "back and forth" between the micro, meso and macro levels, clearly emerge from our comprehensive sui generis systemic perspective, The Three Dimensional Spiral of Sense (Aparicio, 2012, 2015 a, b).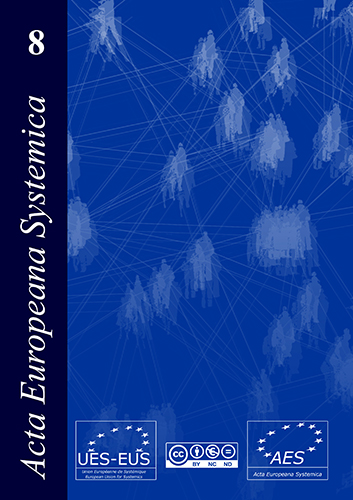 How to Cite
Aparicio, M. (2020). L'articulation entre formation et monde du travail et sa relation avec les trajectoires et les identités des docteurs selon une approche systémique. Acta Europeana Systemica , 8(1), 353-364. https://doi.org/10.14428/aes.v8i1.56543