Can Systems Theory predict the Evolution of Secessionism in Catalonia with Respect to the Kingdom of Spain?
Francisco Parra-Luna

Member of IASCYS (International Academy for Systems and Cybernetic Sciences), President of Honor of SESGE (Sociedad Española de Sistemas Generales), Editor of AVANCES SISTÉMICOS
Keywords:
secession, perspectivism, causal mode, weighting of variables, trend calculation
Abstract
The tendency toward secession of approximately half of Catalan voters is a complex phenomenon that has been worsening for about 15 years, first because of the desire of the Catalan secessionists to have a new Statute of Autonomy incompatible with the rest of the autonomies, and second, for failure of the Central State to implement the promise of President Zapatero in 2011 to accept the Statute to be drafted by the Catalans. From that moment and also thanks to the political inaction of President Rajoy, the Catalan problem has only escalated until it announces a Unilateral Declaration of Independence destined to die before being born due to the illegalities that allowed it. In this situation, the Systemic Model that is presented predicts a certain evolution towards the decrease of the secessionist drive.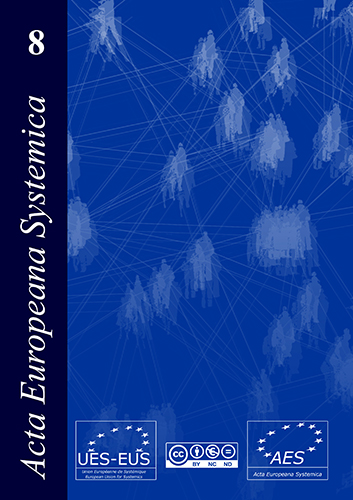 How to Cite
Parra-Luna, F. (2020). Can Systems Theory predict the Evolution of Secessionism in Catalonia with Respect to the Kingdom of Spain?. Acta Europeana Systemica , 8(1), 77-86. https://doi.org/10.14428/aes.v8i1.56253